How Should You Fit a Dog Harness Correctly?
Choosing a perfectly-sized dog harness for your dog is as important as getting the most suitable dog food for your canine. A properly-fit harness can make dog walking comfortable to both your dog and yourself. It is a dog walking essential to ensure a safe but relaxing outdoor journey with your pup!
How to Fit a Dog Harness Correctly
Once you have your dog harness ready, the next challenge is to learn how to correctly fit it to your puppy. Here are some tips for the two major styles of dog harnesses, namely, step-in dog harness and overhead harness. In general, step-in harnesses are usually easier to get a dog into, while an over-head harness is safer for dogs that are larger, more energetic or need more points of adjustment.
How to Put on Step-In Dog Harness
For step-in dog harnesses, here is a step-by-step guide on how to put one on your dog:
Unbuckle the harness and lay it on the ground.

Let your dog stand over the harness. You can do this by carrying them to the spot or letting them approach you on their own.

Place one of your dog's front paws in one of the loops and the other paw on the other loop. 

Snap the strap buckles on your dog's back.

Attach the lead.
The best part about a step-in harness is that it does not stress the trachea of your dog and it avoids gagging. And because it is flexibly adjustable, a step-in harness is perfect for puppies who are still at growing stages.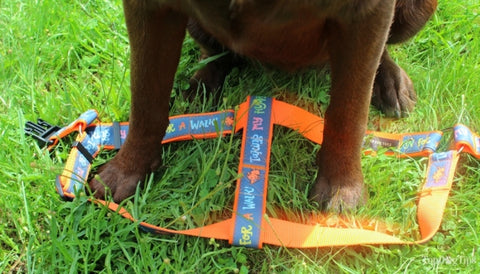 How to Put on Overhead Harness
If you use the overhead harnesses, here is how to fit one onto your dog:
Slip your dog's head through the neckpiece.

Pull the bottom straps down its belly and the top one across its back.

If your harness is connected on one side, have your dog step through the loop and then clasp the side ones together on the other side. If it is not connected on one side, clasp them on both sides.

Attach the leash.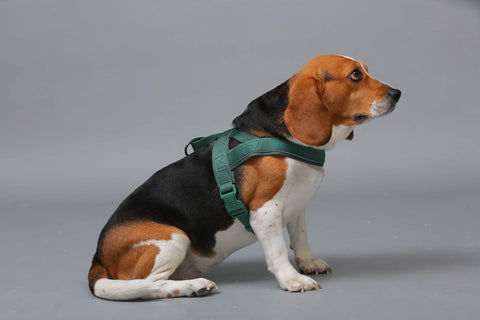 How to Adjust Your Dog Harness
Before taking out your dog for a walk, double-check the straps to make sure the harness is secure but not too tight. The right fit that will give your dog comfort is when you can fit two fingers between your dog and the harness. 
Key Features to Consider and Evaluate When Buying a Dog Harness
Apart from the size and type of harnesses, there are several factors worth noting before you purchase the ideal dog harness for your dog.
Material
A majority of dog harnesses are made of webbing, either nylon or polyester. Please be noted that polyester webbing does not hold triglides or D-rings, and it is easier to untie nylon webbing. 
Metal or Plastic Buckles
Plastic buckles are suitable for walking since they are quick and easy to open and close. However, if your doggo is always full of beans, make sure you get the dog harnesses with metal buckles to avoid breakages.
Points of Adjustments
Your dog's harness should have several points of adjustments. Dogs come in different proportions so having 4 or 5 adjustment points on a harness will help to fit it to your dog correctly. At the very least find a harness with neck and chest adjustments. Some that are made with a continuous loop or one piece of webbing which can also be a great choice.
Select a harness with as many points of adjustment as possible. The more ability a harness has to adjust, the more comfortable and safe it will be for your dog.
A Perfectly Fit Dog Harness is Everything!
Even if you get your dog the highest quality harness with luxurious fabrics and fancy buckle type, a poorly-fitted one will defeat the purpose of anti-pulling and comfort. With all the tricky options out there, don't ever take size for granted!
Know your dog's measurements, decide on whether to use a step-in or overhead style, and consider the other factors to select the best fit for your dog's harness!
iSafeCare offers you an easy on & off harness to optimize your doggy's experience. Check out our size chart inside our harness product page to choose the perfectly-sized harness for your dog. If your dog is between sizes, choose the next size up. You will be further surprised by our Dog Walker Combo Kits to make your dog walking adventures marvelously complete. We look forward to welcoming you into our iSafeCare family!
---